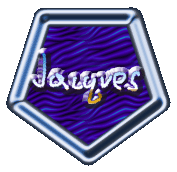 Jacques likes cheese, and lots of it. In addition to which, he may or may not have done numerous interesting things such as author various witty stories, publish a rock biography, date Cher, write articles on music and literature, and work for various, intriguing and arguably legitimate, publishing places such as Simon & Schuster. A play of his was recently performed at the Lee Strasberg Institute in New York to a full audience and rave reviews he raved after having eaten too much pizza.
Recently, he's been mentioned in the Mississippi Review, an esteemed literary magazine publishing some of the greatest writers in the English language. Go to their website and read the introduction letter for the spring 2001 short story issue. Jacques is the "joker" they refer to in their letter. They are the "dicks" he refers to in his bio. Dicks. (Also, the editor for that issue stole that last bit in his intro letter about the thieves from something Jacques actually wrote in his own cover letter). Dicks.

Currently, Jacques also writes for the (arguably) humorous site Universal Oddities Dot Com. It's the funniest thing since hell, sliced bread, and Sri Lanka. And you may just win something if you're Kurt Russell!
I can-- I mean Jacques can be contacted at the following address: jacques@universaloddities.com
If he's not there, please leave a message.
He's still single ladies! Reserve your dates now with the ongoing "Win a Dream Date With Jacques" marathon contest.
Enter to win a dream date with Jacques in this randomized prize drawing. Multiple entries are acceptable. Click here to see if you've WON.
Additionally, Jacques has been the editor-in-chief of a humor magazine. He has also not been the editor-in-chief of a humor magazine. Though he does still smell quite funny.

Disclaimer: Please note that no monkeys were zapped or punched during course of this bio. Though some were approached to switch their long distance phone carriers.