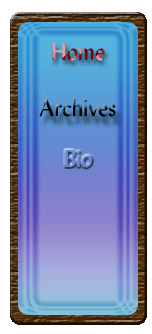 11-07-02 Halloween Article?: Why didn't Jacques write a Halloween article last week, on Halloween?
10-31-02 Violent Entertainment: Why is violence so entertaining? Perhaps it's because there's not enough nudity on television.
10-24-02 Emmy Fever! - Part Two: Jacques steals an Emmy!!!
10-10-02 Jacques's Play Hits Broadway!!!: Jacques dons a monocle and prepares for greatness.
10-03-02 Emmy Fever! - Part One: Jacques wins an Emmy!!!
09-26-02 The Spectacular Gatsby: The adventures of literature's greatest Gatsby must continue!
09-19-02 History's Debacle: Cheryl Tiegs versus Honoré de Balzac. Bear witness to the memorable, yet terrible, clash of titans.
09-12-02 Genetic Frenzy: Studying the intricate nature of DNA is just like teaching a dog to bake cookies. You can probably do it if you spend enough time, but it's just not worth the effort of wiping up all that slobber. It's easier to handle things the old fashioned way: with phrenology and koalas who can cook.
09-05-02 Embassy Blues - Reprise: And so, the Iraqi embassy takes a bow, and Jacques's troubles return for an encore.
08-29-02 Embassy Blues - Part Two: Jacques's situation grows slightly more complex, in a festering sort of way.
08-22-02 Embassy Blues: Jacques's article this week is postponed on account of him getting caught up in the besieged Iraqi embassy in Berlin. Rather, what follows is an account of Jacques's situation and the subsequent dispersal of it.
08-15-02 How to Safely Invade Iraq: More classified information leaked from those idiots in Washington! If only someone would explain to them that classified means "not telling other people about it". Idiots.
08-08-02 He's Back: Guess who's back, and now with his own daytime talkshow... The scourge of the 20th century!
08-01-02 The Henchmen Cooperative Project: Matching industrious henchmen with incompetent employers since 2002.
07-25-02 Behind Lawyers: An examination of those books lawyers keep behind them.
07-18-02 I have a dream: Jacques dreams about things other than the Pasta Wars of 1744.
07-11-02 The Business of Religion: Jacques goes door to door selling people on the religion of Urnootzra.
07-04-02 Happy Holidays!: Merry Christmas to all!
06-27-02 The Romancing of Inbal - Part The Sixth: Letters to Inbal continue as the excitement mounts!
06-20-02 Zabibah and the King and Jacques: Jacques takes it upon himself to translate Saddam Hussein's romance novel.
06-13-02 The Romancing of Inbal - Part The Fifth: The Inbal Chronicles continue with Letters to Inbal.
06-06-02 At the rodeo with Natalie Portman: Jacques accompanies Natalie Portman to the rodeo.
05-30-02 The Romancing of Inbal - Part The Fourth: Jacques considers revising himself in order to become a more appealing human being and win Inbal in the process.
05-23-02 Fruity Markers: Why the arts remains such an important appendage to the educational structure.
05-13-02 The Romancing of Inbal - Part The Third: Jacques pauses to ponder his attempts at winning Inbal's affections.
05-09-02 A Matter of Clarification: Is Jacques working for Saturday Night Live?
05-02-02 Potential Video Games: The necessity of training children for the future may be relieved through a handy medium.
04-25-02 The Romancing of Inbal - Part The Second: Jacques's quest to win the heart of Inbal continues as he updates his profile accordingly.
04-18-02 The Intricacies Copyright Law: Jacques investigates the brilliant intricacy of copyright law.
04-11-02 The Romancing of Inbal: Perhaps the most breathtaking thing you'll ever experience. Jacques's epic quest to win the heart of an ambivalent Jewish single.
04-04-02 Jacques's Outlet: Jacques expounds upon his life's work and focus, to some degree.
03-28-02 The Possibilities of Awards Shows: Jacques examines the unfairly overlooked possibilities of awards shows.
03-21-02 The Passions of Greedo: Since 1977, One Star Wars character has outshined all others. One character who until now has hesitated to share his emotions; his triumph, and his pain.
03-14-02 A Note from the Pocket of Jacques: Jacques's fumbling solution to the whole dilemma of asking a girl out, diffusing awkwardness, and gentle seduction.
03-07-02 Jacques Gets His Own Website!: Jacques is moving to his own website, and stupidity is following close behind.
02-27-02 GOD EXISTS!!!: In a moment of epiphany, Jacques stumbles upon irrefutable evidence of God's existence.


Also, visit Lance and Eskimo Dot Com